Wood Look Tile Flooring
If you're looking to get the charm of hardwood combined with the sturdiness of tile, there's good news! Wood look tile is one of the newest trends that is keeping homeowners excited about flooring. Wood look tile takes a photo of genuine hardwood and prints it on the tile surface with a high definition printer. While a photo of hardwood on a tile may not sound realistic, it's true that wood look tile is successful at achieving the natural elegance of hardwood.
At Advance Carpet One Floor & Home, we carry an extensive collection of wood look tile to fit any home design. Whether you prefer the modern look or more of a whitewashed hardwood, our selection of wood look tile is sure to suit your home design and home needs.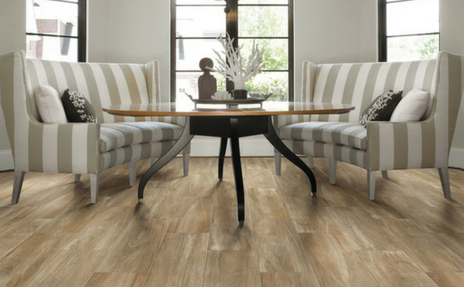 Benefits of Wood Look Tile
Wood look tile offers a number of benefits besides its alluring appearance. While wood look tile generally catches the eye of many, its features are usually the reason why homeowners ultimately choose it over other flooring options.
Wood look tile doesn't require the same routine maintenance as genuine hardwood. Hardwood floors are not resistant to moisture and can even dent or scratch depending on their hardness and wear layer. Wood look tile, on the other hand, is not prone to dents or scratches and resists moisture well. In fact, wood look tile is especially ideal for high-moisture areas like bathrooms, kitchens, and entryways. Because wood look tile handles high moisture well, it can be installed on floors as well as shower walls. One of the top trends is a wood look tile shower, with a herringbone pattern. Walk-in showers with wood look tile bring attention to the sophistication of the pattern, while often making the space look even larger. Overall, wood look tile is an option that is here to stay, thanks to its gorgeous looks and impressive versatility.