Mannington Adura Max Luxury Vinyl
Have you grown increasingly frustrated in your search for a fantastic-looking, high-performance floor? We've got some wonderful news for you: we have Mannington Adura as part of our luxury vinyl flooring selection. Available in a variety of color, texture, and pattern combinations, this venerable luxury vinyl is as sturdy as it is stylish, and can complement just about any space or setting.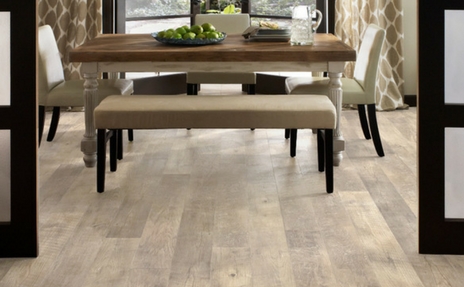 Adura Max Waterproof Flooring
Mannington Adura Max luxury vinyl flooring is already armed with the weapons needed to ward of scratches, scuffs, and stains. Thanks to the dynamic duo of our ScratchResist coating and HydroLoc core, you won't ever obsess over potential scars, scuffs, or water damages. An impressive warranty seals the deal.
Given its performance features, Adura Max is considered 100% waterproof. Learn about our other waterproof flooring options.
At Advance Carpet One Floor & Home, we're proud to carry a full line of Mannington Adura products. Stop by our Des Peres, Ballwin, or O'Fallon stores today and discover what Mannington Adura can do for YOUR home or business.